All About UTV Windshields By Bad Dawg Accessories
All About UTV Windshields By Bad Dawg Accessories
---
BAD DAWG ACCESSORIES | WINDSHIELDS | SEPTEMBER 26, 2018
With the temps going higher and higher, mud and trails are getting dryer and dryer. What does this have to do with UTVs and UTV enthusiasts? Whether you use your UTV to haul hay and heavy equipment around the farm or you take on the trails every weekend with your family and friends, eating dust...and bugs is just not that fun.

Check out why windshields are perhaps one of the most popular aftermarket UTV accessory and see which windshield from Bad Dawg Accessories is the right one for you.

WHY DO YOU NEED A WINDSHIELD FOR YOUR UTV?
If you had to choose just one accessory to add to your UTV, many seasoned riders will tell you that investing in a good windshield is in their top pick for must-have side by side accessories. Here are just a few reasons why?

First off, they help protect you from the elements. When it's raining, it can be almost impossible to drive at a reasonable speed if stinging rain drops are popping you in the eye. And let's not forget how 20-degree air can make your cheeks feel like you have been slapped 50 times.

In addition to the elements, windshields also protect against dirt, dust, and bugs. Reducing dirt and dust from coming in also means that you have to spend less time cleaning and have more time playing. You also don't have to play the guessing game of "what just flew in my mouth?".

TYPES OF UTV WINDSHIELDS
Just like there are different types of UTVs to fit different needs, there are also different types of UTV windshields.

Full Windshield - Just as the name suggests, a full windshield offers the most protection from the weather and many even come with a wiper. Check out this full Polaris Ranger D.O.T glass windshield with a single manual wiper. This simple to install glass windshield is DOT stamped and certified, made from a 120-gauge steel frame, and comes with an arm steel bracing hook to resist jarring and jumps.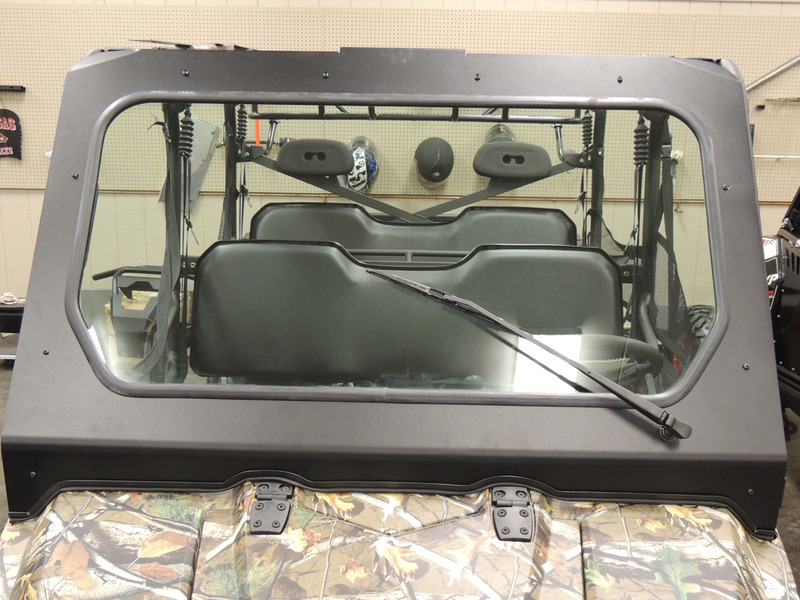 For those requiring a little airflow, look for a full-vented windshield. You still get the protection of a full windshield while also allowing additional airflow. Check out the Polaris RZR Full Windshield with Vent.

Full Tilting Windshield - When the weather is just right and you are taking things slow, you just want to feel the air hit your face. If this sounds like you, then a full tilting windshield may be the right choice for you.

Check out the Can-Am Commander Full Tilting Windshield. This windshield is made from Lexan Polycarbonate, has MR-10 coating on both sides, all hardware is stainless with a black-coated finish for no rust, and with a unique quick release top windshield piece, it's simple to remove the top section without needing tools.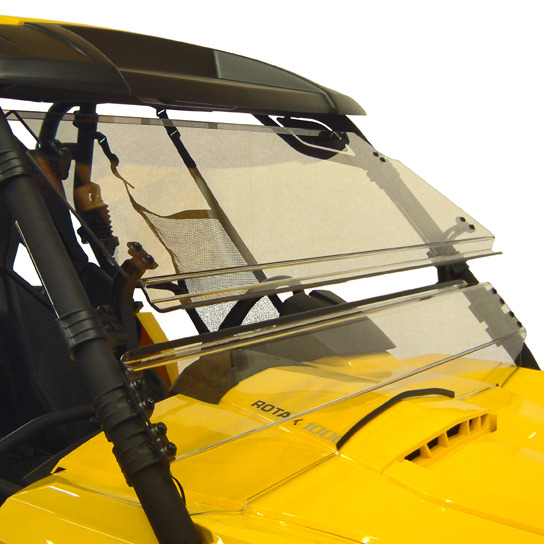 Another option to the full tilting windshield is the half-folding windshield. The Intimidator Fold Down Windshield is made from 1/4" thick polycarbonate and has a clear strip at the fold that allows the driver to drive with the windshield down and not be distracted.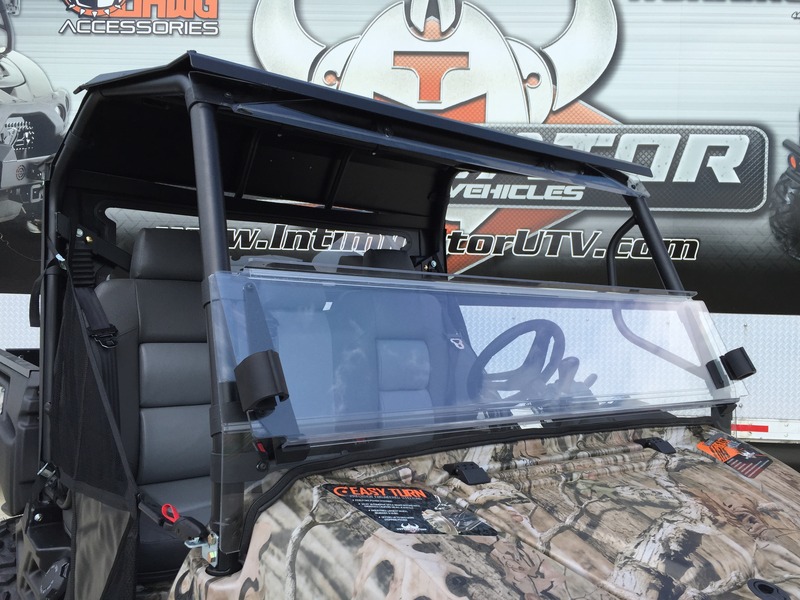 Rear Windshield - For those wanting to add a little more protection, think about adding a rear windshield. Solid rear windshields or panels help keep out flying debris from entering through the back of the vehicle.

WHERE TO BUY BAD DAWG ACCESSORIES
Now that you have narrowed down the windshield possibilities and know which one will work for your UTV and your needs, it's time to buy. You can check out our large selection of UTV and ATV accessories and shop from our website at baddawgaccessories.com or you can visit a Bad Dawg Dealer. They will be happy to answer your questions and guide you to the accessory you need. Need to find a dealer? No problem. Simply click on DEALER LOCATOR in the menu and type in your zip code.