Bad Dawg Accessories Offers UTV Storage Options
Bad Dawg Accessories Offers UTV Storage Options
---
BAD DAWG ACCESSORIES | STORAGE | SEPTEMBER 26, 2018
Whether you are hitting the trails for a fun day with friends or heading out for a long day of work, you need your UTV to have storage for all of your tools and "stuff". Check out Bad Dawg's list of UTV cargo and storage accessories.

KAWASAKI MULE PRO FXT REAR CARGO RACK
Rear cargo racks are great for adding another level of storage to the bed of your UTV. The Kawasaki Mule Pro FXT Rear Cargo Rack is constructed out of high-grade American steel. The quality design and workmanship make the rear cargo rack perfect for those who want to add hunting gear, camping accessories, or larger tools to their side-by-side while keeping the bed of their vehicle available. And because of the durable steel construction, you can strap down a loaded cooler.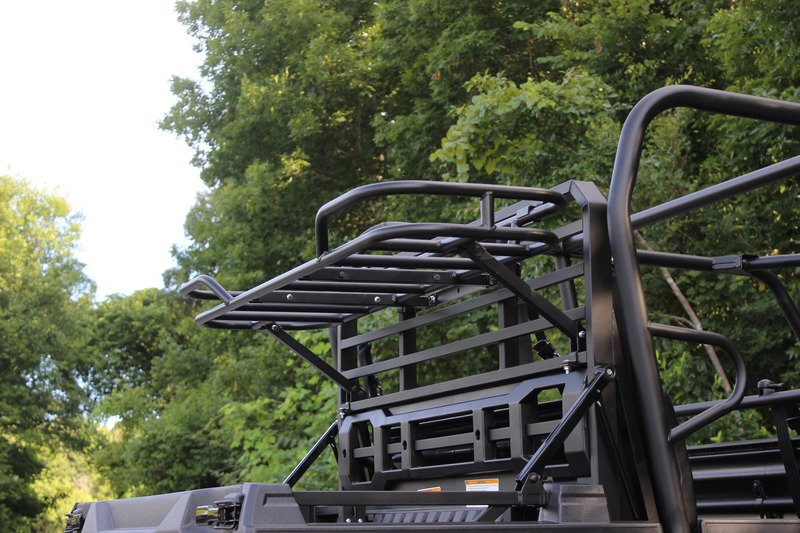 INTIMIDATOR UNDER-SEAT STORAGE COMPARTMENT
If you need items to be out of sight or you just need a little more room, then UTV under-seat storage compartments may be just what you need. The Intimidator Under-Seat Storage Compartment is made of a high-quality thermoplastic that is built to withstand extreme temperatures. It is also simple and easy to install on your Intimidator Crew or Intimidator Truck Series models.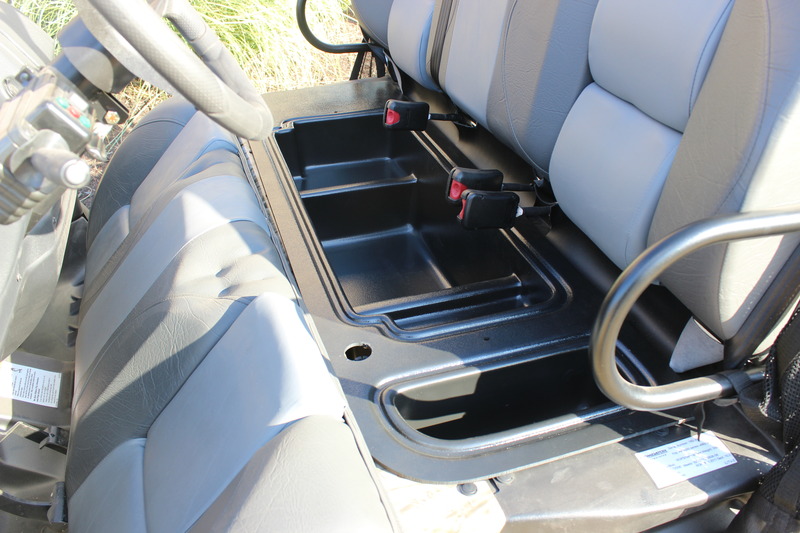 INTIMIDATOR TOOL BOX
For those who use their UTV for work, it is important to have a safe and secure place to store your tools. The Intimidator Tool Box is made of high-grade aluminum and is designed to fit perfectly in the bed of your Intimidator UTV while still leaving you room for bigger items. The tool box is great for your bag of tools, chain saws, fencing tools, etc. However, it is also versatile for a variety of other items. You can also carry your hunting gear, spare parts, or camping accessories.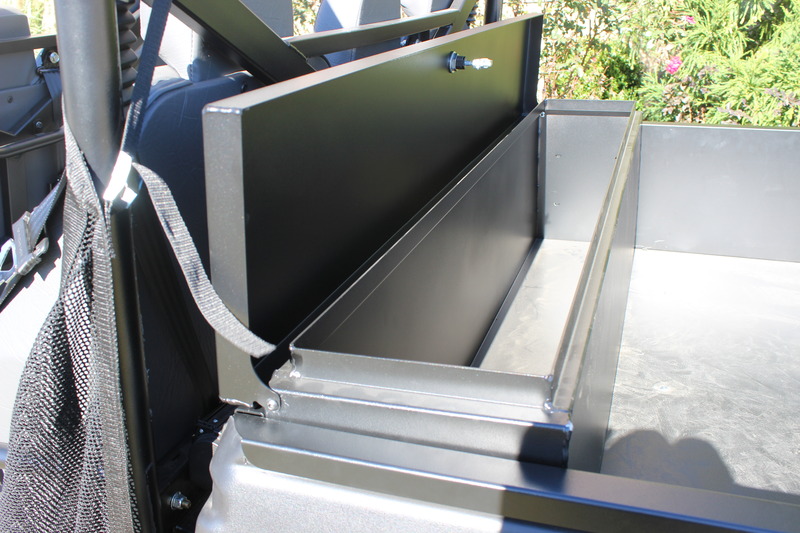 POLARIS RZR REAR STORAGE BOX (XP 900 ONLY)
If you are planning a ride and want to keep your items dry and clean, then a rear storage box will do the trick. The Polaris RZR Rear Storage Box is a custom made cargo box that is about 9" deep and covers almost the entire bed of the Polaris RZR. Not only can you keep your cargo dry and clean with this UTV rear storage container, but the installation and removal is easy. The two strap installation allows you to take the storage container with you where you go.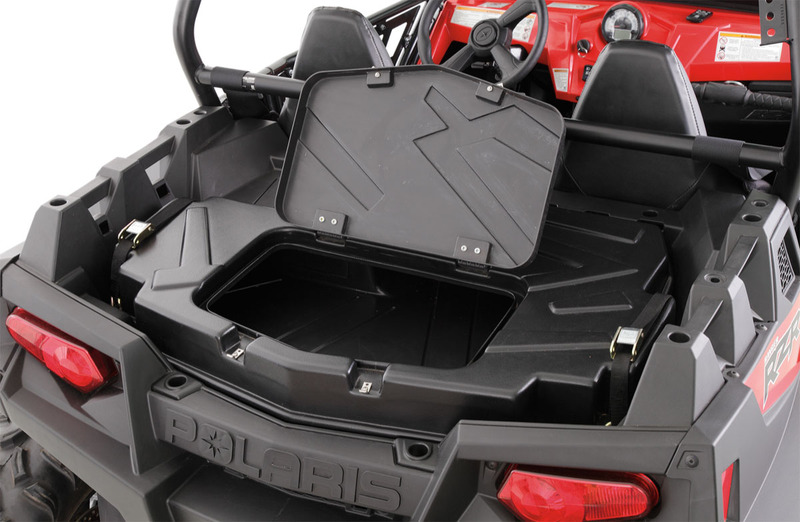 UNIVERSAL UTV STORAGE ACCESSORIES
Bad Dawg Accessories also carries universal UTV storage accessories. Our Universal Roof/Cargo Rack is great for those who want to free up space in the cab or cargo bed of their ride. Simply add your gear and equipment to the top your SXS or UTV. Bad Dawg's Universal Roof/Cargo Rack is made from solid American steel with a black powder coat for added protection. The best part is that it will fit any side-by-side or UTV with a metal roof.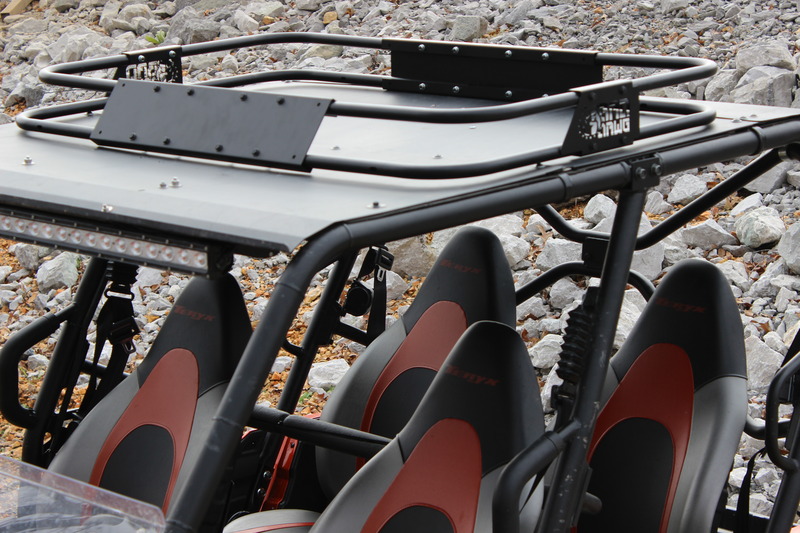 TAKE IT ALL WITH YOU WITH UTV STORAGE FROM BAD DAWG
At Bad Dawg, we carry some of the best side-by-side aftermarket parts and accessories. We carry accessories for a variety of brands including Polaris, Honda, Kawasaki, Intimidator, John Deere, Yamaha, and more. Whether you just need more room for your cooler or you need your gear cover and protected, Bad Dawg Accessories has the UTV and SXS storage accessories you need. You can shop online or find a Bad Dawg Dealer near you by clicking DEALER LOCATOR and typing in your zip code.

Like our Facebook page and stay up to date on the latest blogs, news, and deals.